Back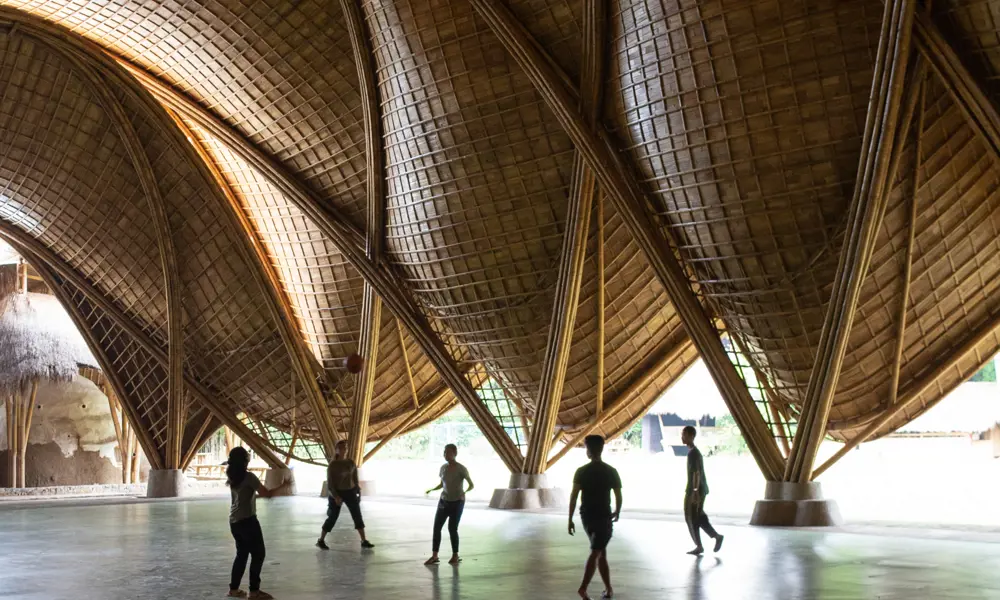 Building a greener future
Engineers have their work cut out to decarbonise all sectors. Will Arnold, the Head of Climate Action at the Institute of Structural Engineers (IStructE), says a mindset change is imperative. Revolutionary ideas will be key for the future of how we create, maintain and power our buildings – with fresh minds and diverse teams at the forefront.
The future of humanity is endangered by the dual threat of climate breakdown and biodiversity loss across the globe. Weather systems are changing, leading to more extreme floods and droughts, threatening people's safety, homes, and food supplies. Nature loss continues to reach new highs, endangering fragile ecosystems on which humans rely on to live. 
This breakdown is happening primarily because of how we make stuff, create energy, grow food, and provide transportation. All four of these industries have engineers at their heart, and so we must transform them if we're going to better protect nature and return our climate to the sweet spot that enables humanity to thrive.
I work in the building industry, and our main impacts on the climate and biodiversity emergency come from two things:
Heating and powering our buildings, to keep us at a comfortable temperature and allow us to turn on the lights/TV/kettle.
Using construction materials (concrete, steel, bricks, glass, and so on) to create and maintain our buildings.
Both create carbon emissions – through generating power at power stations for (1), and through burning fuels to make the materials in (2). Additionally, our use of materials threatens wildlife all over the world. The materials used to make the steel frames in a UK shopping centre could have been made using iron and coal from places as far away as Brazil or China, threatening nature wherever they were dug out of the ground.
So, to engineer buildings that will secure the future of humanity, we need to tackle (1) by reducing the energy used by our buildings and ensuring that it is fully renewable. To tackle (2), we need to stop demolishing existing buildings, upcycling them instead, and then invent new manufacturing methods to create zero-carbon materials that we can use where we really need to build something new. Approaches to both of these are laid out in the UK Green Building Council's roadmap to net zero.
So that's all sorted then, right? Wrong.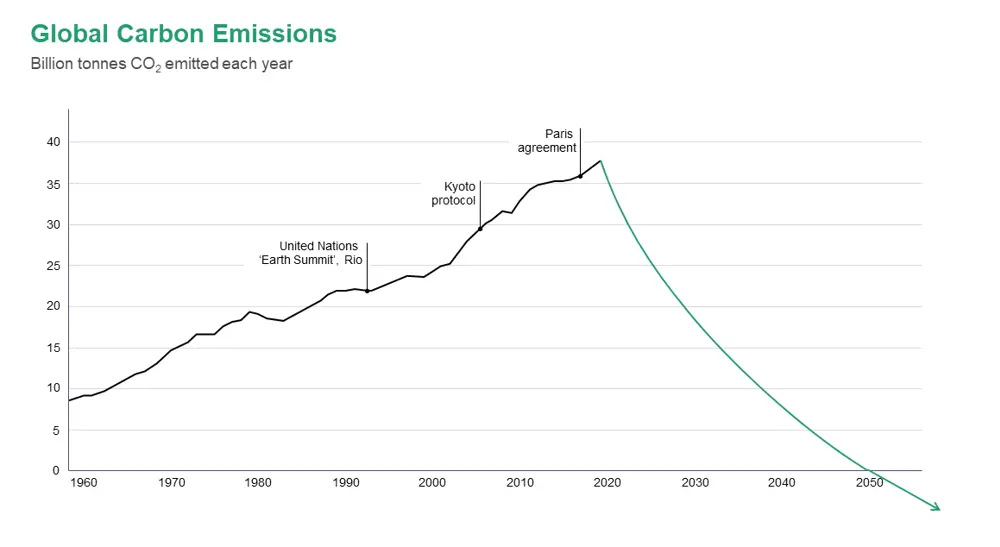 We need a revolution
The problem is that most of our plans are based on improvements in efficiency. We aim to use less power and less material. But there are two problems with this. 
Firstly, it's just not quick enough. If you look at how rapidly the world needs to decrease carbon emissions and nature loss, you see that we're not talking about small gains year-on-year. If you look at the latest IPCC report, you realise that not only do we need to slash emissions year-on-year (something which we're not even close to doing yet), but eventually we have to get past net zero and through to a carbon-negative world, where we start to repair the damage done to our climate. We need something really transformative to happen if we're going to pick up the pace.
Secondly, whenever we've found an improvement in efficiency in the past, studies show that we've actually increased consumption as a result. When the chainsaw was invented, lumberjacks didn't start to work two-day weeks, rather, they cut down more trees. This so-called 'Jevons Paradox' has led many to conclude that efficiency policies are not helpful.
Instead of efficiency increases, we need breakthroughs, game-changers, and transformations.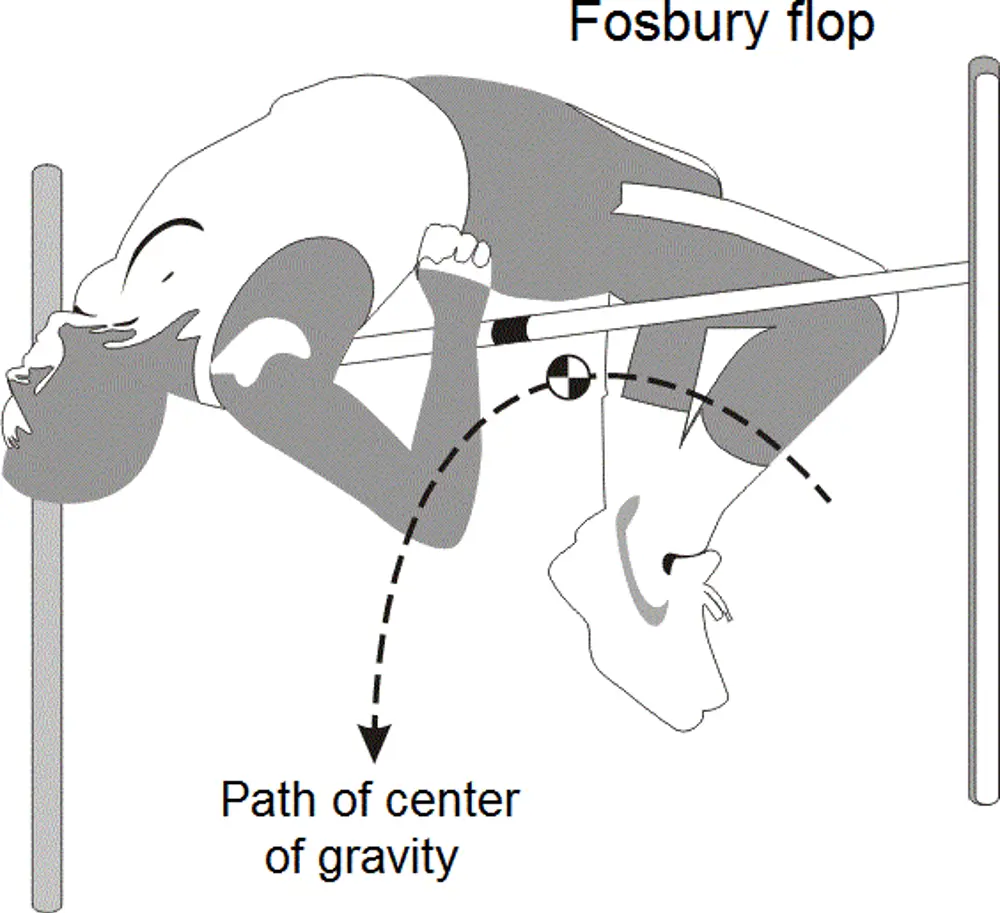 So instead of efficiency increases, we need breakthroughs, game-changers, and transformations.
When Dick Fosbury invented the Fosbury Flop approach to the high-jump in the 1960s, he didn't simply make high-jumping more efficient, he revolutionised the sport. Today, every competitive high jumper uses the Fosbury Flop method. We need Fosbury Flop thinking for our homes and buildings, our construction materials and methods, and the ways we think about power generation and consumption. This is what the IStructE argues for with much of the thinking behind Design For Zero, its flagship book on eliminating materials-based emissions.
Diverse and creative teamwork
Today, engineering teams around the world are looking for new minds and new ideas. We need enthusiasm, intelligence and imagination. We need people who are mathematically talented, others who are wonderfully creative, and others who are skilled communicators. We need those who love to solve problems, and others driven by a desire to see people all over the world live a comfortable, enjoyable life. We need people from different backgrounds and cultures, with different interests and opinions. Where teams have this diversity, they thrive.
The most successful engineering teams are doing truly revolutionary things. I'm lucky enough to be a judge for The Structural Awards, which celebrate the world's most amazing engineering achievements in construction each year. This year saw two incredible projects given the grand title of 'Supreme Award for Structural Engineering Excellence'.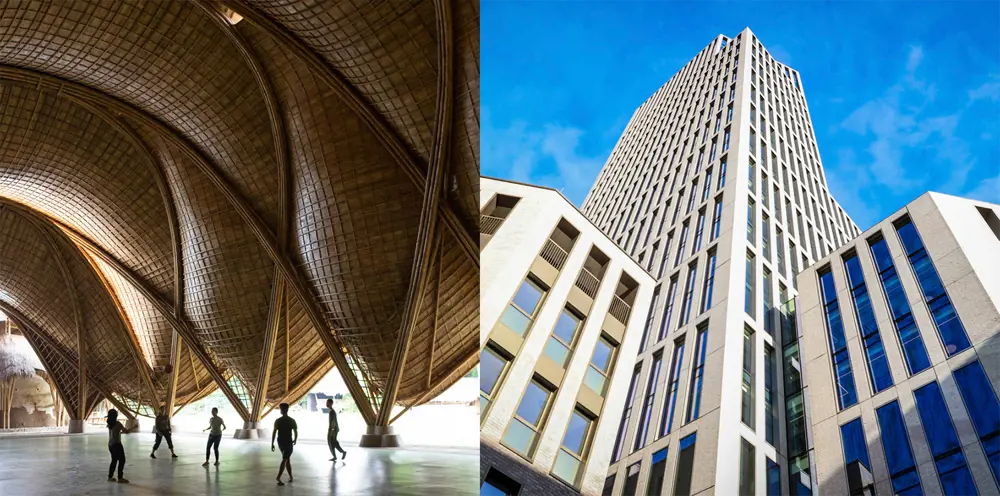 The first, 'Hylo', is a building where the engineers showed it was possible to upcycle an existing 16-storey tower-block in central London, adding a whopping 13 new storeys to the top of it and doubling its floor area. This halved the emissions and material used, compared with constructing a new building. 
The second, 'The Arc', is a bamboo gymnasium for The Green School in Bali. Its awe-inspiring roof was built entirely from locally sourced 14-metre-tall bamboo arches. Its structural typology takes inspiration from how the human ribcage is stabilised, resulting in a unique shape and an unprecedentedly low carbon footprint.
Both buildings had diverse, creative, talented and passionate teams of engineers at their heart – and have set the bar higher for what we should aim to achieve.
Both buildings had diverse, creative, talented and passionate teams of engineers at their heart – and have set the bar higher for what we should aim to achieve.
Becoming an engineer of the future
Many engineering courses and apprenticeships now put climate and sustainability at their heart, aiming to produce young engineers who understand the challenges facing humanity even better than their future employers do. Some are even moving away from the 'do less harm' ethos of sustainable design and towards the exciting world of 'do more good' that comes from regenerative approaches. These are true revolutions in the way that we engineer the world.
This means that when it comes to climate, new engineers entering the industry are often the most informed members of any given design team. The more senior members of those teams are looking to the next generation to bring their views and ideas for new ways of doing all of this.
The UK has always been well-known in having its Fosbury Flop engineering moments and pioneering radical ideas to solve the world's biggest problems. The climate and biodiversity crisis is perhaps the biggest problem of all, and we need to lead by example in developing the most extraordinary solutions to it.
***
This article has been adapted from "Building a greener future", which originally appeared in the print edition of Ingenia 95 (June 2023).
Contributors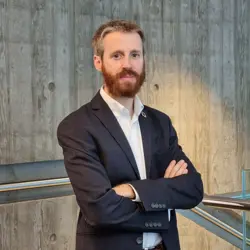 Will Arnold is a Fellow and staff member of The Institution of Structural Engineers (IStructE), responsible for embedding sustainability action into all aspects of the institution's work. He is responsible for driving the update of minimum standards for institution members, developing supporting guidance, and leading collaboration with wider industry. Will was the lead author of Part Z (an industry proposal for embodied carbon regulation in the UK) and is helping to deliver both the UK Net Zero Carbon Buildings Standard and the Built Environment Carbon Database. In recognition of his work instigating change in the field of structural sustainability, Will holds the IStructE President's Award and the Memcom Outstanding Achievement Award.
Keep up-to-date with Ingenia for free
Subscribe